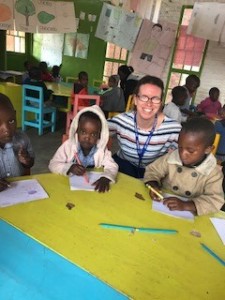 Laura Gauld is a Geography teacher in Aberdeenshire. She travelled in Rwanda in 2018 in a bid to improve her first-hand experience of different cultures to better platform the teaching of her subject.
Having two friends who had already completed GLP and joining two other Geography teachers in the 2018 cohort, Laura was confident the experience was going to have a real impact on her personal and professional life.
"One of my main motivations was the love of my subject. Over many years of studying and teaching Geography, I have learnt about people across the world and their cultures. Although I have done some travelling to developing countries, it has always been as a tourist basis. Until you immerse yourself by living and working in a place, you cannot gain a real understanding into the lives of the people. I hoped that this would enhance my learning and understanding and therefore the experience of my pupils and across the wider school."
When teaching Development and Population, Laura will use her first-hand experience with photos and videos to enhance pupils' understanding of the developing world. She will also use the lesson to differentiate countries in Africa from the continent and highlight the role of urban cities such as Kigali to show the diversity of countries. For the Health topic, she will focus on water-related diseases such as malaria and her experience in dealing with prevention strategies.
Laura felt she not only developed skills through GLP but realised the skills she already had. She added:
"In Rwanda you are constantly drawing on all your teaching skills but it is not until you are in a totally different environment, with little resources that you think back to the basics of teaching and learning."
Laura's other observations from her GLP placement:
"One day a wee boy saw us picking up bottle tops on the street and started gathering bottle tops for us. He kept chasing us down the street and giving us more. He spoke no English, we couldn't really communicate with him yet he wanted to help complete 'Muzungu' strangers! He clearly didn't understand us saying thank you, nor did he understand us saying 'that's plenty, you don't have to keep looking', he just kept chasing us up and down the road for about an hour! It was really lovely."
"I am now questioning how much we waste resources we could reuse. It has made me think outside the box more instead of relying on technology. We are so lucky that we have access to so many resources in the classroom but this does not mean the expensive and technological approaches are necessarily always the most meaningful for pupils. The experience in Rwanda allows you to draw on the many skills we all have as practitioners and teaches you to continue drawing on these skills back home too."
"I feel Rwanda will stay with me for a long time, I would love to return to the country at some point in the future. The experience is a slow burner and I feel I am constantly still learning from the whole process."
"GLP is more than the month in Rwanda. There are engagements in the months prior to and following on from the trip. This gives you time reflect upon and embed learning. There are little other opportunities that allow you to engage with such a range of practitioners across Scotland across both primary and secondary which is highly valuable for the understanding of how pupils learn most effectively."