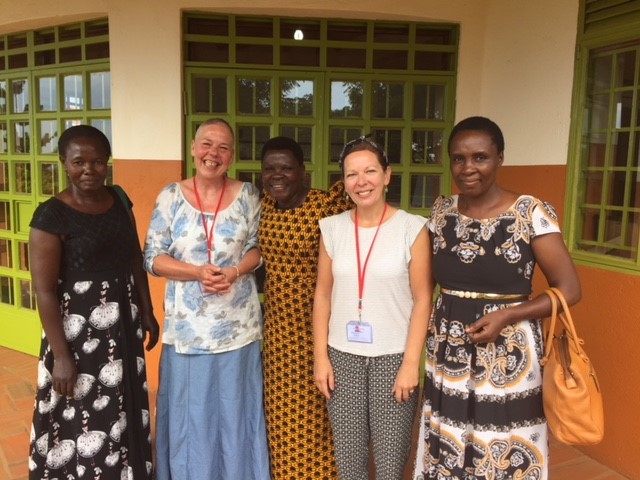 Susan Hamill is an Acting Principal Teacher of Employability in Paisley. She applied for GLP for a number of reasons: she had always wanted to do an overseas placement to make a difference; she thought it was a great professional and personal development opportunity; and she wanted to learn more about the world and her role in it.
What she had not expected was that her main takeaway from the placement part of her GLP experience would be the lessons she would learn from the Ugandan teachers and how much they would inspire her.
"I was surprised by the competence and skill of some of the teachers I met. I was amazed by the standard of teaching, especially in the Masindi Centre for the Handicapped and in each school that I worked in, there were at least two teachers that were really good at their jobs. What they could achieve with so little resources was wonderful and for them to tell us they had learned from our CPD sessions methods to improve their teaching felt like a wonderful achievement."
Susan is now planning to "inject some of Uganda into any teaching and CPD" she delivers. She has already been involved with a project whereby students made books to send to schools in Masindi, developing her school's Fairtrade group and employability initiatives.
She will also use resources differently – reusing what she can and reducing the use of items which can't be recycled as well as thinking more about using the natural environment in teaching.
Susan's other observations from her GLP experience:
"I am now confident in myself as a teacher and know that I can make a positive impact on pupils and staff back home. GLP makes me feel that I can achieve whatever I set my mind to do."
"GLP really provided a hands-on experience, almost like a virtual reality experience, as you were living the experience rather than just attending a course or doing some online reading. It's an immersive experience which is fantastic."
"On a personal level I learned that I am content with very little and that it made me happy to experience life like a Ugandan. I was very proud to be lighting the sigiri without help and carrying a jerry can full of water on my head."